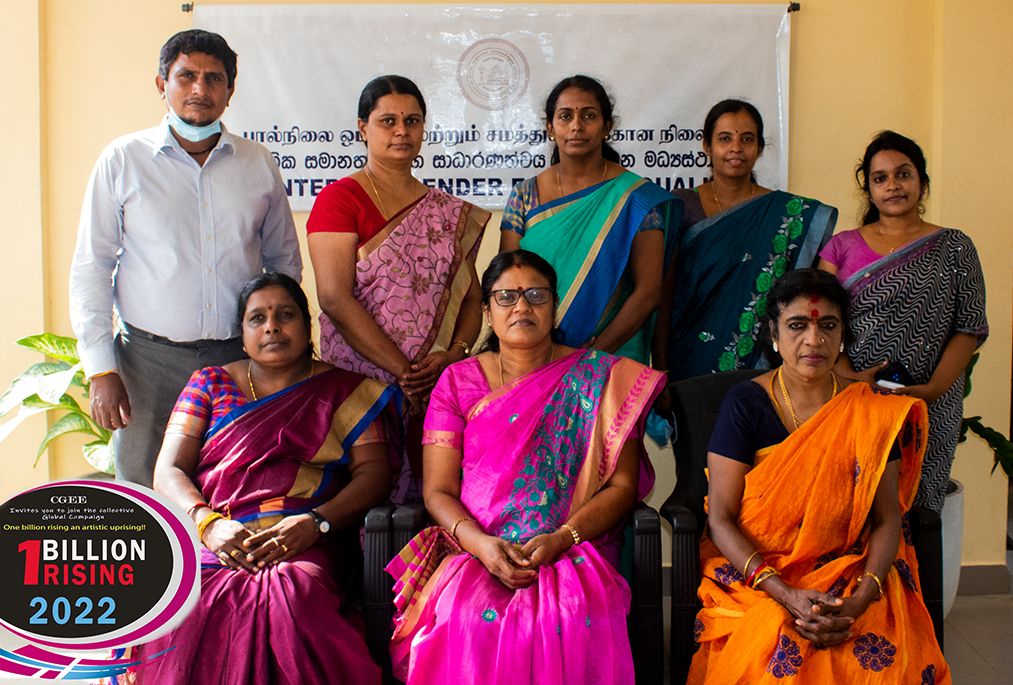 Violence against women is considered not only as a national, ethnic, tribal or religious issue but also as a global phenomenon which has to be eliminated and prevented and for the past 18 years, many events have taken place all over the world, raising funds and awareness for local groups and organizations working to end violence against women and girls. One Billion Rising is a global campaign to end violence against women, every year celebrated on 14th Feb.
One Billion Rising 2022 aims to rise to end violence against women and girls and to end the desecration of the earth.
Centre for Gender Equity and Equality, University of Jaffna joined the collective global campaign One Billion Rising this year and it's celebrated as an artistic uprising on 14th Feb.,2022 through poetry reading, storytelling and showcasing posters. CGEE created an impact through its participation in the global movement. The events took place with nearly 15 participants at the CGEE, UoJ on 14th Feb.2022 at 2pm.
The event was commenced with the welcome address by the chairperson of the working committee Mrs. Sivagowri Rajashanthan.  The director, CGEE in her address, implied the importance of joining in a global campaign and the need to rise the voice against the exploitation of women and earth.
Then the theme song of One Million Rising which was translated and sung in Tamil was displayed. Dr. (Mrs)S. Yoharatnam read a poetry both in Tamil and English titled 'Stop Violence against Women'.
'Break the Chain', a poetry translated from English was read by Ms. Riophilla Alfred.
Mrs.Aarabee Sivakugan through her short story 'நெருப்பு  நிமிடங்கள்' and poetry 'அவள்களில் நாமும் இருப்போம்' brought out the concept of violence against women in all the forms. A poetry reading by Mrs. Sivagowri Rajashanthan 'மௌனத்தைக் கலைத்திடு சமூகமே' insisted the society to rise to witness and end violence against girls. Mrs.Riophilla Alfred presented a paper on the portrayal of a self- awakening Odyssey of the protagonist in the novel 'One Indian Girl' written by Chetan Bhagat.
The posters designed by the members of CGEE were showcased and at the end of the event the participants shared their collective thoughts in supporting the event. The event came to end with the vote of thanks by the secretary of CGEE, Mrs. Vijitha Pragash.